Fujitsu Ltd. is a Japanese multinational information technology equipment and services company headquartered in Tokyo, Japan.[5] It is the world's third-largest IT services provider measured by revenues (after IBM and HP).
Fujitsu today is a dominant market leader in its sales of document scanners, with more than 50% market share worldwide. With a well-known reputation for reliability, and an extensive experience of 18 years, Fujitsu scanners are manufactured to the highest quality standards. Its continuous rigorous efforts in R&D have produced scanners with the latest advanced technology, and this has helped Fujitsu maintain its leadership position in today's competitive environment.
Fujitsu offers the most comprehensive range of document scanners available in the market. With its strong emphasis on reliability, ease of use & efficiency, Fujitsu scanners will produce the best scan possible with little or no human intervention. This results in optimum productivity.
Speed: 60 ppm/120ipm
ADF Capacity: 80 sheets
Expected Daily Volume: 9,000 sheets
Cloud connection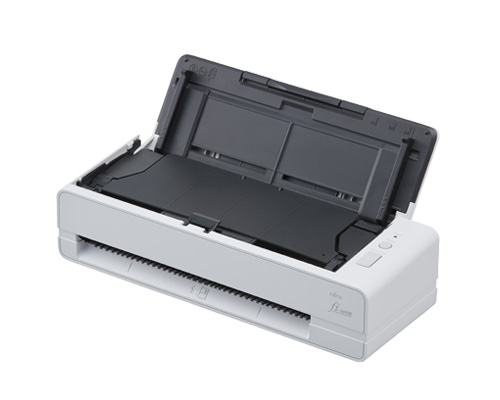 Speed: 40 ppm/80ipm
3.5 seconds per page
ADF Capacity: 20 sheets
Expected Daily Volume: 4,500 sheets
Speed: 60 ppm/120ipm
ADF Capacity: 80 sheets
Expected Daily Volume: 9,000 sheets
Speed: 60 ppm/120ipm
ADF Capacity: 80 sheets
Expected Daily Volume: 9,000 sheets
Speed: 40 ppm/80ipm
ADF Capacity: 80 sheets
Expected Daily Volume: 6,000 sheets
Speed: 40 ppm/80ipm
ADF Capacity: 80 sheets
Expected Daily Volume: 6,000 sheets
Speed: 27 ppm/54 ipm
ADF Capacity: 50 sheets
Expected Daily Volume: 4,000 sheets
Speed: 30 ppm/60ipm
ADF Capacity: 50 sheets
Expected Daily Volume: 4,500 sheets
Wired network connection
Speed: 25 ppm/50ipm
ADF Capacity: 50 sheets
Expected Daily Volume: 4,000 sheets
Wired network connection
Speed: 20 ppm/40ipm
ADF Capacity: 50 sheets
Expected Daily Volume: 3,000 sheets
Wired network connection
Speed: 25 ppm/50ipm
ADF Capacity: 50 sheets
Expected Daily Volume: 4,000 sheets
Speed: 30 ppm/60ipm
ADF Capacity: 50 sheets
Expected Daily Volume: 4,500 sheets
Speed: 25 ppm/50ipm
ADF Capacity: 50 sheets
Expected Daily Volume: 4,000 sheets
Speed: 20 ppm/40ipm
ADF Capacity: 50 sheets
Expected Daily Volume: 3,000 sheets
Speed: 80 ppm/160ipm
ADF Capacity: 80 sheets
Expected Daily Volume: 11,000 sheets
Speed: 80 ppm/160ipm
ADF Capacity: 80 sheets
Expected Daily Volume: 11,000 sheets
Speed: 80 ppm/160ipm
ADF Capacity:100 sheets
Expected Daily Volume: 24,000 sheets
Speed: 60 ppm/120ipm
ADF Capacity: 100 sheets
Expected Daily Volume: 18,000 sheets
Speed: 140 ppm/280ipm
ADF Capacity: 500 sheets
Expected Daily Volume: 120,000 sheets
Speed: 110 ppm/220ipm
ADF Capacity: 500 sheets
Expected Daily Volume: 100,000 sheets
Speed: 100 ppm/200ipm
ADF Capacity: 300 sheets
Expected Daily Volume: 44,000 sheets
Speed: 75 ppm
ADF Capacity: 300 sheets
Expected Daily Volume: 33,000 sheets
Team scanner with touch screen
Speed: 40 ppm
ADF Capacity: 50 sheets
Cloud connection
Simple one-button scanner
Speed: 40 ppm
ADF Capacity: 50 sheet
Simple scanner with touch screen
Speed: 30 ppm
ADF Capacity: 50 sheets
Cloud connection
Comes with two ways of scanning
Speed: 30 ppm
5 seconds per page
ADF Capacity: 20 sheets
Cloud connection